Post by Adi Gold on Apr 19, 2022 18:32:05 GMT
"I'M IN THE FRIGGIN' CU'LT!!"


Adi Gold enters a coffee shop screaming at the top of her lungs. She awkwardly gets stares from other customers in the cafe. Adi looks embarrassed until... she shouts again.


"OKAY, TO BE CLEAR! NOT A MURDEROUS CULT! THERE IS NO KOOLAID! IT'S ACTUALLY A WRESTLING COMPANY! ANNNNND I GOT THE JOB!"
Officer McKay, a young police officer currently off duty knew exactly what she was talking about. He sat there drinking his coffee and said out loud.


"CU:LT. Combat . Unlimted. Lethal. Trials...?"
He said shaking a bit.


"Big mistake, girl. That place is currupt. That place is disgusting. That place... is harboring pure evil. You should ask for your release..."
Everyone in the coffee shop remains silent. Adi begins laughing.


"I'll have what he's having... haha."
Some people in the cafe chuckle. The young cop stands up approaching Adi Gold.


"Look Miss...?"
"Adi. Adi Gold.... duh!"
"Look, Adi. During my training to become a police officer, we all heard the stories about the Orphanage. And about English and his family. There was a Detective... a really good detective who lost his mind trying to put a stop to this Casanova English. You don't want to be there when shit goes down. No KOOL AID drinking, but signing that contract makes you apart of the problem... Adi. This is a huge mistake..."
A
di smirks.
"Hey, coffee guy, I'LL HAVE WHAT HE'S HAVING!"
Adi looks around for more laughs, gets silence. Adi pouts.

A frustrated McKay looks at Adi.
"This isn't a joke. If there's a hell, Casanova English is going there... if he doesn't get his 'followers'... sorry, MEMBERS OF HIS FIGHT COMPANY TO CREATE A HELL ON EARTH!"
Adi smiles. "Look, I'm a big girl. I get it. The company has some skeletons in their closet. Dark? Insane? Creepy? Whatever... but don't we all have that? I mean not me, sure I don't recycle plastic, or save on water or, or, or drive sober. But if CU:LT can give me a steady pay check. Hey, I'm in. WHO IS WITH ME!?? Hey you, what's your name... how are you feeling????"
Adi points to an old man eating breakfast. "Huh? Barry? I feel like a worm on a big hook!"
"BARRY!?! YOU FEEL LIKE A WORM ON A BIG HOOK! WELL, YER' MOMMA MUST BE SOME PROUD OF YOU!!! Mr. Police Officer, this CU:LT is the place to be right now. It's a hot wrestling company. And I am the HAWT-EST rising star in the bizz... "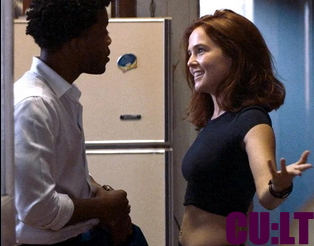 McKay gets into Adi's face. "Look... do what you want. Just don't say I didn't warn you, Miss Gold. And just so you know, he isn't the worm... you're the bait. And you've been caught. I just hope you can escape in time..."
Adi bursts out into laughter. "I think someone just watched Gone Fishin' recently. How is Danny Glover and Joe Pesci in that by the way? Get out of here, officer clown."
McKay grabs his jacket and throws some bills on his table and frustratingly leaves the cafe. Adi sarcastically waves and mouths the words 'buh-bye' as he does. She turns around to look at the crowded coffee shop.


Adi smiles. "SO! WHO WANTS TO BUY THIS LADY A CELEBRATION EXPRESSO!?!?!? Anyone... any takers... any body?"
The people go back to their conversations, food, coffee and papers as Adi frowns looking around.

TBC By ANYONE or NO ONE! It's all good. (Bored)